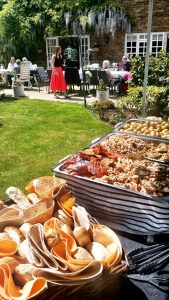 Welcome to Hog Roast Corby; your local catering hero with a penchant for providing mind-blowing cuisine and service at a reasonable cost! You'll find that our team here are a talented bunch, boasting over ten years of experience in the foodservice industry, which in that time, has seen our business grow to become one of the best-loved caterers in and around the Corby area.
While hard work, dedication and an unrivalled talent for hog roasting has played a central role in our roadmap to success, we also have our valued customers to thank.
From trusting us to handle their special events and celebrations; to leaving glowing testimonials, and even sending their family and friends our way; it's thanks to people like you that we have been able to develop a strong client portfolio that covers everything from engaged couples and birthday celebrants; to high-end corporate clients – and even the odd celeb!
With a reputation for providing exceptional quality hog roasts and an understanding that catering plays an integral role in the success of your event, we take our position very seriously. As such, our team is always eager to help you find the perfect menu for your event – one that your guests will be talking about for years to come.
Types Of Events And Celebrations We Cover
Though a common misconception, when it comes to hog roasts, there are no events that are off-limits. From birthday celebrations of all ages, baby showers, gender-reveals and graduations; to weddings, housewarmings, charity fundraisers and corporate functions – the beauty of this medieval-turned-modern cooking method is that it complements any occasion! Furthermore, by offering you the freedom to completely customise your menu, Hog Roast Corby ensures a service that meets the exact needs of your unique celebration; covering everything from style, party size, dietary requirements and budget.
Event And Celebration Examples:
Wedding Receptions – With their romantic and wonder-filled atmospheres, weddings are one of our favourite events to attend, and it's always a privilege when couples entrust us with the feast for their most special day. Featuring six set menus, each of which can be fully customised, our limitless service has something for every bride and groom.
Private parties (home/garden/party venue) – Maybe you're hoping to show off your new garden furniture set with a backyard party? Or perhaps you have a milestone birthday planned at a local function hall? Whichever route your private celebration takes you, you can rest easy knowing that our compact cooking equipment can be easily manoeuvred indoors or outdoors.
Charity Fundraising Events and Corporate Functions – Guests attending corporate or charity events are unlikely to know each other. But the good news is that our Hog Roast Corby team is experienced in bringing people together with our buffet-style catering.
Indoor & Outdoor Event Catering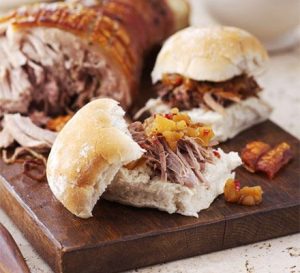 If there's one thing we've learned in our ten years of service, it's that no two events are ever identical. Each customer and client is unique, and as such, so are their celebrations. However, this poses no real challenge for Hog Roast Corby, as our state-of-the-art cooking equipment allows us to handle any requests that come our way.
Fancy a forest hog roast under a canopy of sky-scraping trees? Or how about a day at sea, watching as the waves crash against the shore with a roll of juicy spit-roasted meat in hand? Whatever floats your boat, our team have the means to meet your expectations, courtesy of our lightweight, easily-transportable machines which take up little space.
Hog Roast Corby's Machines For Hire
Think you have what it takes to be a chef for the day? Well, whether you're a novice home-cook or budding restauranteur, Hog Roast Corby can help you out with our machine rental options. Providing you with everything you'll need to make a quality hog roast, from the machine and gas canister to a full selection of ingredients, plus additional extras (e.g. gazebos, serving tables), you'll soon be well on your way to spit-roasting success. Plus, we'll even drop off and collect the equipment at a time that suits you.